Fire & Emergency Services
You will most likely meet us at an emergency evacuation drill, but FES does so much more.
Did you know FES supports building and fire safety and emergency preparedness for the entire campus?
Contact
Office: 215-573-7857
Emergency: 215-573-3333 / or 511 from campus phone
Email FES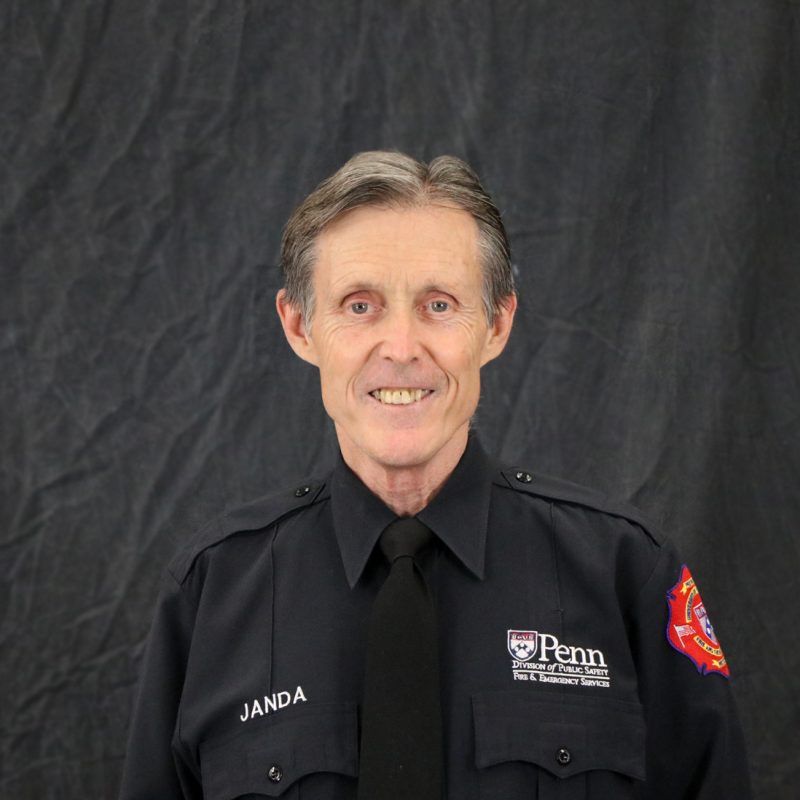 Eugene C. Janda, CFPS
Chief of Fire and Emergency Services
Eugene Janda has extensive fire safety and emergency preparedness experience from his 22 years with the Philadelphia Fire Department (PFD). During his tenure within the PFD, he rose to the rank of Fire Captain/Acting Battalion Chief. Within a six year period, he trained 660 firefighters (approximately 25% of the force) and indoctrinated 250 paramedics.
"Although we met during an emergency event, your staff and you were helpful to me in coping with my stress.  After the fire, [DPS personnel] checked with me almost every day to make sure everything was okay…again, I want to thank you and your staff…"
B. S.
Penn Community Member
The Department of Fire & Emergency Services (FES), in addition to implementing the University's crisis emergency plan (see emergency preparedness), maintains an active partnership with the City of Philadelphia's Department of Licenses & Inspection and Fire Department, in order to ensure compliance with all city, state and federal fire and building codes for the University.
FES conducts routine inspections of buildings and fire alarms; supervises mandatory evacuation drills; reviews all plans for construction, renovation and installation of fire protection and sprinkler systems; monitors all campus elevators for safe operations; coordinates regular inspections of all elevator emergency phones; conducts pre-event inspections (such as Spring Fling, Hey Day, concerts etc.); and provides fire and emergency services trainings for the entire Penn community.
Fire Protection Reliability
The members of FES have an extensive professional and academic background in fire protection, fire prevention, safety, code management, fire investigation, building inspections, fire suppression, hazardous materials and training. FES strives to ensure a safe operational and living environment for all Penn students, faculty and staff by providing a contemporary fire and safety program that is continuously reviewed, updated and coordinated with University community members.
Fire & Emergency Services
by the Numbers
.
+440
Emergency Preparedness Drills per CY
165
Building Blue Books Updated and Maintained
1200
Code Compliance Inspections Annually
+300
Fire Safety & Emergency Preparedness Trainings Annually